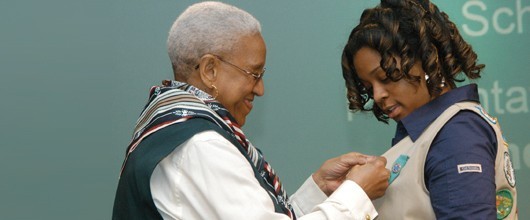 Highest Awards
Bronze. Silver. Gold. These represent the highest honors a Girl Scout can earn.
All three awards give you the chance to do big things while working on an issue you care about. Whether you want to plant a community garden at your school and inspire others to eat healthily for your Bronze, advocate for animal rights for your Silver, or build a career network that encourages girls to become scientists and engineers for your Gold, you'll inspire others (and yourself). 
Also a given: as you earn one of Girl Scouting's highest awards, you'll change your corner of the world—and maybe even beyond. The possibilities are endless.
Want to see what others have done to earn their award? For inspiration, check out examples of Bronze, Silver, and Gold Award projects via Girl Scouts of the USA's Map It: Girls Changing the World..
Recently GSUSA has made a change to the Silver and Gold Award
The change now states girls working towards their Silver and Gold Awards may now choose to focus their projects on the Girl Scout community. To ensure that any council-focused Silver and Gold Award projects are aligned with our long-term goals and outcomes we have created a pitch process that is required for ALL Silver and Gold projects where girls want to do something that benefits the Girl Scout community.
We ask that before she decides to focus on Girl Scout a girl must complete the three steps that precede the planning stage of a Silver or Gold Award project.

Identify an issue you care about.
Develop a plan for the project.
This is when a girl can decide whether her issue is best addressed by focusing on the Girl Scout community.  When a girl or group decides that "Yes" her project does benefit Girl Scouts her next step will be to submit a "pitch", through the online submission.
Pitches will be submitted to the Higher Awards Specialist, who will evaluate the pitches on a rolling basis to ensure that they will meet GSUSA standards for Take Action projects. If a project does not require further approval from a council department, the Higher Awards Specialist will either approve the proposal or work with the girl or Take Action group to ensure the project meets all requirements. If a project requires the use of council resources or guidance, the specialist will direct their pitch to the appropriate manager for the department that the girl or Take Action group want to partner with. The manager will then review the pitch and set up a meeting where they can confirm details of the project and the extent of their department's involvement. This can be in the form of a phone call, email, or in-person visit, depending on the scale of the project and the needs of the girls. Once the manager has confirmed that the project will work for them, they will pass this feedback to the Higher Awards Specialist, who will approve the pitch.
Girls should treat their pitches like a formal presentation and provide detailed evidence of why they believe this project should involve Girl Scouts. We believe it is important that girls are able to distill their project's premise down to a concise, manageable sound bite - it will help them build professional marketing and presentation skills! Successful project pitches will decisively answer the Wufoo form questions and leave no doubt that the project should include Girl Scouting.