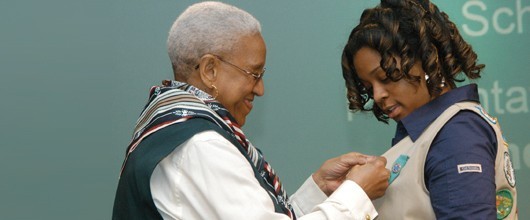 Highest Awards
Bronze. Silver. Gold. These represent the highest honors a Girl Scout can earn.
All three awards give you the chance to do big things while working on an issue you care about. Whether you want to plant a community garden at your school and inspire others to eat healthily for your Bronze, advocate for animal rights for your Silver, or build a career network that encourages girls to become scientists and engineers for your Gold, you'll inspire others (and yourself). 
Also a given: as you earn one of Girl Scouting's highest awards, you'll change your corner of the world—and maybe even beyond. The possibilities are endless.
Want to see what others have done to earn their award? For inspiration, check out examples of Bronze, Silver, and Gold Award projects via Girl Scouts of the USA's Map It: Girls Changing the World..
Recently GSUSA has made a change to the Silver and Gold Award
The change now states girls working towards their Silver and Gold Awards may now choose to focus their projects on the Girl Scout community. To ensure that any council-focused Silver and Gold Award projects are aligned with our long-term goals and outcomes we have created a pitch process that is required for ALL Silver and Gold projects where girls want to do something that benefits the Girl Scout community.
We ask that before she decides to focus on Girl Scout a girl must complete the three steps that precede the planning stage of a Silver or Gold Award project.

Identify an issue you care about.
Develop a plan for the project.